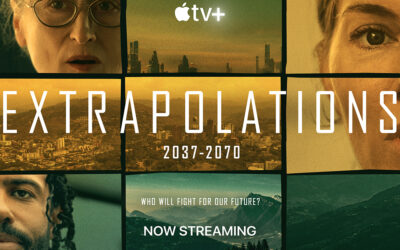 2023 (USA) 4 60-minute episodes
Directed by: Scott Z. Burns
This series from Apple TV+ is a bracing drama from writer, director and executive director Scott Z. Burns that introduces a near future where the chaotic effects of climate change have become embedded into our everyday lives. Four interwoven stories about love, work, faith and family from across the globe will explore the intimate, life-altering choices that must be made when the planet is changing faster than the population. Every episode is different, but the fight for our future is universal. And when the fate of humanity is up against a ticking clock, the battle between courage and complacency has never been more urgent. Are we brave enough to become the solution to our own undoing before it's too late?
Scott Z. Burns is a screenwriter, director, producer, and playwright. His work in film includes producing An Inconvenient Truth, as well as An Inconvenient Sequel and Sea Of Shadows. Burns' writing credits include The Bourne Ultimatum, The Informant!, Contagion, Side Effects and The Laundromat. Burns' credits as a director include PU-239 and The Report. On stage, Burns' play The Library was produced at The Public Theater and was nominated for an Outer Critics Circle Award for Best New American Play.
Scott Z. Burns will be present to introduce this series as well as participate with a Q & A afterward.
2037: A RAVEN STORY
Directed by: Scott Z. Burns
As nations fight over the Earth's fate, Rebecca (Sienna
Miller), Marshall (Daveed Diggs), and Junior (Matthew
Rhys) all see their plans go up in smoke.
Incline Village Cinema – December 9 – 2:00pm
2046: WHALE FALL
Directed by: Scott Z. Burns
Rebecca, a marine biologist, strives to connect with a
humpback whale (voiced by Meryl Streep) before it's
too late.
Incline Village Cinema – December 9 – 3:00pm
2047: THE FIFTH QUESTION
Directed by: Gregory Jacobs
As Miami's waters rise, Rabbi Zucker gets an intriguing
offer from the father (David Schwimmer) of a young
woman preparing for her bat mitzvah.
Incline Village Cinema – December 10 – 2:00pm
2066: LOLA
Directed by: Scott Z. Burns
Natasha (Gemma Chan), a single Mom in London,
braves the world of artificial companionship, until she
rents a partner (Tahar Rahim) she can't forget.
Incline Village Cinema – December 10 – 3:00pm