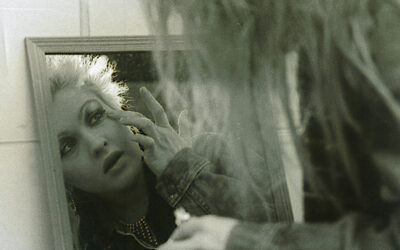 2023 (USA) 96 minutes
Directed by: Alison Ellwood
Cyndi Lauper anxiously rides in the backseat of a car stuck in
New York City traffic. In her distinctively thick New York accent,
she reflects on her career, saying "I didn't want anyone to tell
me what I could and couldn't do." On her longevity and unique
ability to adapt to shifting social trends, she says "I never think
of it as reinvention. I want to learn." Alison Ellwood's spirited
documentary Let the Canary Sing takes the audience on a
nostalgic exploration of the life and career of legendary pop
icon Cyndi Lauper, with a boisterous narrative anchored by the
inimitable Lauper herself. The film traverses her upbringing in a
lower-class Queens neighborhood through her rebellious youth
pushing back against intolerance, all the way to her meteoric
rise in the music scene crafting classic songs that are vibrant and
catchy as well as socially resonant. Ellwood presents a revealing
and honest Lauper alongside lively archival footage of her cheeky
personality and many absorbing performances through the years.
The result is a film that captures Lauper's body of work as an
outspoken feminist artist who has been a stalwart advocate and
champion for others.
2023 Tribeca Film Festival
2023 Edinburgh International Film Festival
Crystal Bay Casino Crown Room – December 1 – 6:30pm